Walker Touring-Plus – this is an ideal awning for Eriba caravanners who want to enjoy maximum comfort. It is a full awning – the front and side panels can be zipped out both for easy erection and to enable us as a sun canopy. The Touring-Plus is supplied with a specially designed alloy frame as standard; lightweight and easy to erect. Curtains are included.


Specification
Depth - 240 CM
Roof - TenCate coated polyester
Walls - Coated polyester
Frame - 28mm aluminium with Easy-Powergrip fittings
Ventilation - In the ridge to the front
Sidepanels - Can be zipped out
Weight: - Approx: 26KG
Skirt - Included
Wheel cover - Included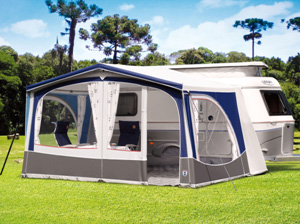 Optional extras include zip-down window covers,
porch extensions, annexe etc..
Grounds are available in special breathable fabrics.